Combine Group Fitness And Martial Arts For The Best Workout In Skokie
Are you looking for a better way to train and challenge your body? Well, look no further.
Here at Next Level Martial Arts and Fitness, we've taken the best aspects of Martial Arts training and Group Fitness classes to create a program that is truly one of a kind! We're sure that once you experience our High-Intensity Martial Arts and Fitness (HIMAF) based curriculum, you won't want to work out any other way again.
We're helping everyday people from all across Skokie achieve their fitness goals, all without a big-box gym approach.
Fill out the short form on your screen to learn more today!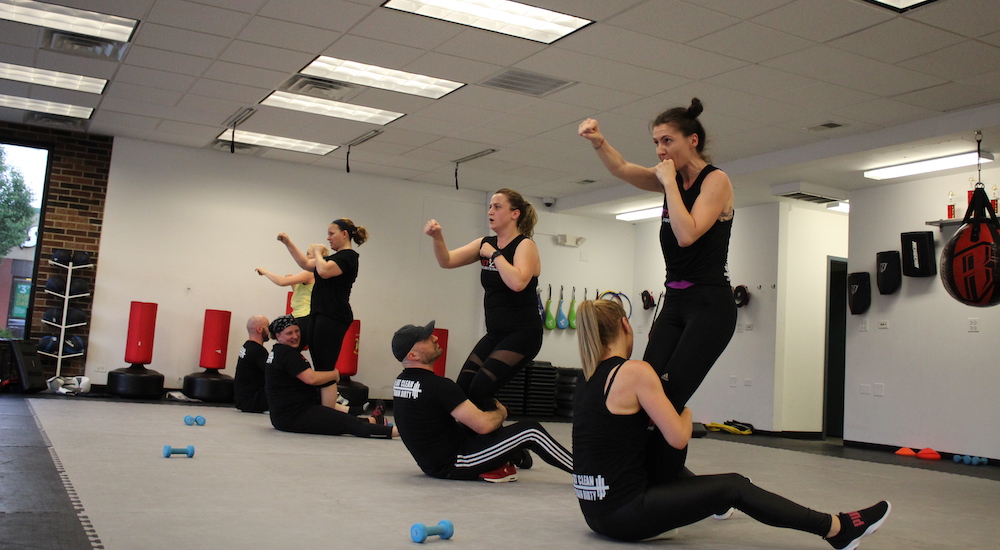 What Can You Expect From Our Adult Martial Arts Fitness Classes?
We want to make sure that you're not just going through the motions when you come into our class. We use the HIMAF system to challenge our students by combining traditional martial arts training with proven methods for developing lifelong fitness. We use the methods of Taekwondo as a basis, then we add in boxing-style striking, power hurdles, plyometrics, Krav Maga, and more intense techniques that will keep you coming back every time. We ensure that you'll be excited to come to class, and have a sense of growth every day you leave.
Come see us here in Skokie today for:
Lean muscle toning across your entire body
Functional self-defense skills
Sustainable weight loss & fat burning
Functional strength & a sense of accomplishment
Learn Self-Defense While You Get In Great Shape
Our Martial Arts Fitness Class isn't like any traditional group fitness class you've ever been to. Instead of boring repetitions week after week, we challenge you with dynamic new workouts that incorporate a variety of disciplines! Using fast-paced workouts that are designed to mimic the chaos and confusion of a real-world altercation, exercises to sharpen your focus and improve your body, and real martial arts training that is proven to work, we provide a HIMAF workout that checks all the boxes.
Be a part of our Martial Arts Fitness Classes to enjoy:
Diverse sets of strikes, kicks, and self-defense maneuvers
Unshakable self-confidence
A new approach to standard group fitness
Motivation and excitement to continue your fitness journey

Don't Miss Out On Our Adult Martial Arts Fitness Classes Here In Skokie!
You don't have to settle for less when the best is right here! Enjoy all of the fun and spirit that comes with traditional martial arts while also experiencing the physical benefits of high-intensity fitness. People all across Skokie are already enjoying the benefits that we at Next Level Martial Arts and Fitness can offer.
Just fill out the short form on your screen so you can be a part of it, too!